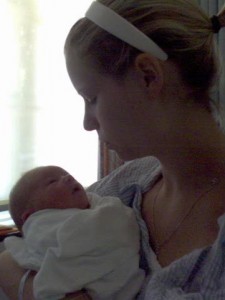 Dear Daughter
You amaze and humble me everyday. I cannot imagine a life without you; you've changed me and my life in so many ways. Its amazing and scary to think I nearly didn't get to feel this way, to have you in my arms and love you with everything I've got. I adore your smile, love your chuckle and look forward to waking each day because you are mine.
Every day is a new adventure with you. I love your purity, clarity and faith in everything.
The way you check to see if I'm watching the exploration and fun you're having.
The cute growling noises you make when playing with your toy cars.
Your fine blonde baby hair with crazy little curls on the ends.
Your button nose and cute little ears.
Your chubby little hands and fingers, along with your teeny little feet and toes.
The way you babble and assume you can speak English already.
The way you mash a fist full of food into your face and miss your mouth completely but keep going back for more.
They way you run to me when you want a cuddle.
The way you try to run and hide against the couch like you're becoming invisible because I cant see your face…
The fact that you think you can drink from a tumbler or mug like a pro.
I have so much to tell you, to share with you and experience with you. I promise to always give you my everything, forever and always.
I love you so much and I am so privileged to have you.
Love Mum