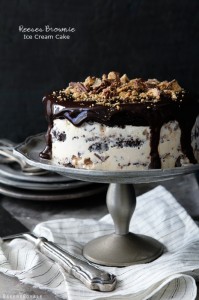 A Few Notes:
– Any brownie recipe will do. You can make thos portion 2 days ahead and assemble the ice cream cake later to freeze.
– By all means use homemade or store bought ice cream. Whatever works for you.
– Of course if you are allergic to peanuts, go ahead and swap reeses for any other candy or crushed cookies.
Reese's Brownie Ice Cream Cake
Makes on 6 inch cake | Preparation: Spray pan for brownies with nonstick spray. Heat oven to 400 degrees F.
Ingredients:
Brownie layer (Recipe will need to be doubled and baked in two separate dishes for a 3 layer cake)
8 tablespoons unsalted butter

4oz. unsweetened chocolate

1 ¼ cups sugar

1 teaspoon vanilla extract

¼ teaspoon salt

2 large eggs

½ cup all-purpose flour
Ice cream layer
3/4 gallon vanilla ice cream, softened

2 cups mini Reese's Peanut Butter Cups, chopped

3/4 cups toffee bits
Topping:
1 cup hot fudge sauce

3/4 cup mini Reese's Peanut Butter Cups
Instructions:
To make brownie layer:
Place butter and chocolate in a double boiler or a bowl over simmering water. Stir frequently until mixture is melted. Remove chocolate mixture from heat and stir in sugar, vanilla and salt. Add the eggs one at a time, stirring until each is incorporated before adding the next. Stir in flour and beat with a wooden spoon until mixture is glossy about 1 minute. Set aside. Pour mixture into a 13×9 prepared pan and bake for 15-20 minutes, or until the brownie starts to pull away from the sides of pan.

While brownies are baking, prepare ice bath. Fill a pan with ices cubes and water ¾ inch deep (yes, this really does help the brownie). When the brownies are done baking, remove the pan from the oven and place it in the water bath. Allow brownies too cool completely in the water bath. Cut brownie into 8 in circles.
To make ice cream layer:
Place softened ice cream in a bowl and folded in chopped Reeses cups and toffee.
Assembly:
Line springform or pan preferred pan with two layers of plastic wrap with a one inch over hang on each side. Place on round brownie layer on the bottom and layer and spread ice cream on top. Repeat until fully assembled with top layer as the browne layer. Freeze until set. Remove from freezer once set and pour warm hot fudge on top and sprinkle crushed Reeses to finish.