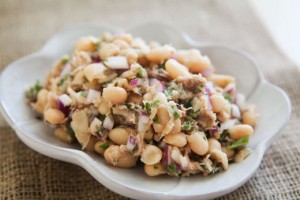 Looking for a super-easy-I'm-hungry-now-and-I-don't-want-to-spend-time-cooking meal, why not give this a go. It helps to have a high quality canned tuna, packed in olive oil. If you have water-packed tuna it will still work, but you'll need to add a lot of olive oil to help it come together. A little Tabasco or chili pepper will give the salad a bit of zing. Try substituting the white beans with garbanzo beans. This salad is designed for improvisation.
Cannellini and Tuna Salad
Ingredients
1 cup of chopped red onions or shallots

The zest and juice of 1 lemon or 2 limes (can sub a tablespoon or two of cider vinegar)

2 five to six ounce cans of tuna packed in olive oil

2 15-ounce cans of cannellini or Great Northern white beans, rinsed and drained

1/2 cup of chopped mint, parsley, or arugula

A few splashes of Tabasco sauce, or 1 minced Serrano chile or 1 teaspoon red chile flakes

1/2 teaspoon freshly ground black pepper

Salt and olive oil to taste
Method
1 Sprinkle some of the lemon juice over the chopped onions while you prepare the other ingredients. This will take some of the oniony edge off the onions.
2 Drain the oil from the tuna and put the tuna into a large bowl. Add the beans to the tuna and gently stir to combine. Add the onions, herbs, black pepper, lemon zest and lemon juice and mix to combine. Add Tabasco or chile to taste. If the salad needs more acid, add a little more lemon juice. If the salad seems a little dry, add a little bit of olive oil. Add salt to taste.
3 Chill before serving. This salad will last several days in the fridge, tightly covered.
Serves 4.